An appetite suppressant is a drug, supplement, food, or other methods that help people think that they are not hungry.
Some methods of tricking the body that it is not hungry are more effective than others and help in their weight loss regimen.
Pills that make you not hungry, or also called prescription drugs, suppress appetite, include diethylpropion, benzphetamine, phentermine, and mazindol. These drugs are usually in tablet form or extended-release capsules. There are prescription appetite suppressants as well as over-the-counter appetite suppressants.
Burniva is a natural appetite suppressant pills.
Burniva - The Most Effective Fat Burner
How do appetite suppressants work?

Drugs that are classified as appetite suppressant affect the body's central nervous system by tricking the body to believe that it does not feel hunger.
Pills that make you not hungry also increases the chemicals in the brain that promotes satiety. They are used as a short-term treatment for obese individuals.
The drugs cannot be used long-term because the effects of the drugs to the body wear off after a few weeks.
Side effects of taking pills that make you not hungry
As with any other drug, appetite suppressants may cause some unpleasant side effects, including:
Increased blood pressure
Increased heart rate
Constipation
Sweating
Insomnia
Drowsiness
Lightheaded
Excessive thirst
9 Health Benefits of Appetite Suppressants for weight loss
They help in controlling hunger, which is an essential key to weight loss for many individuals.
Many individuals have learned that no matter how hard they exercise, they find it hard to reach the fat loss targets if they cannot control their energy intake.
The following are the known health benefits of appetite suppressants:
They help control your hunger.
It directly or indirectly alters the chemistry of the brain, making you feel satiated or not hungry for longer periods of time as compared to other foods. You can achieve your reduced-calorie target when you eat a lot less than usual.
They can increase your satiety response
It can decrease the body's hunger signals, increase your feelings of satiety, delay the process of digestion or reduce the absorption of digested food, resulting in the consumption of fewer calories.
Appetite is controlled by the hypothalamus, a region in the brain. The hypothalamus serves as the master computer of the body. It is responsible for telling you the exact amount of food that you need. Hormonal changes can lead you to feel hungry, which will lead you to find food. Foraging for energy is an important element of survival and energy homeostasis.
The hypothalamus helps you maintain your body weight around a particular setpoint, and avoid the problems that come with low energy intake, which include malnourishment, illness, and death. However, because of the availability today of so much food, many people take the concept of foraging to the extreme, resulting in the overeating of an abundance of calories and eventually weight gain. Together with the other factors that can solve the problem of obesity, appetite suppressants have become a very common treatment for the problem.
They act on neurotransmitters and hunger hormones Appetite refer to the person's desire for food intake while hunger is the interaction between the central nervous system, hormones, and the gut. The hypothalamus controls satiety and hunger using hormones such as ghrelin, leptin, PYY, CKK, and GLP-1.
It improves weight loss by changing the way hormones work. They stop satiety and appetite hormones while interrupting the hunger signals that are sent to the brain when you are hungry.
Appetite suppressants can help burn more calories and reduce food intake.
There are appetite-suppressing drugs that also have effects on your total daily energy expenditure.
For example, the now-banned sibutramine was able to prevent the drop in basal metabolic rate, a process that is often observed during weight loss. Some evidence suggests that sibutramine increased also thermogenesis.
Burniva - The Most Effective Fat Burner
Appetite suppressants that work
If you are worried about using diet pills for weight loss, you can use natural appetite suppressants that are safe and effective options for shedding those extra pounds.
Weight gain has always been a problem for many and in some cases, it has become a health crisis.
If you want to lose weight safely and reduce hunger without resorting to weight loss pills, natural appetite suppressants are your next best option.  
Weight-loss pills Vs Natural Appetite Suppressant
Diet pills and popular pills for weight loss have a combination of chemicals as well as caffeine, digestive enzymes, and herbs. In most cases, these pills come with side effects and major warning labels. It is not a safe way of losing weight nor it is a means to control appetite for many. 
For instance, these pills contain high amounts of caffeine and are designed to give you bursts of energy while controlling your appetite. Other pills target fat absorption and some affect the brain's neurotransmitters to suppress your appetite. These can lead to various side effects such as nausea, headaches, dizziness, and others.
Thus, weight loss pills are not the answer if you are looking for a life-long weight loss regimen. You have to take some effort to curb your appetite and maintain your weight on a healthy reign. 
Here are some natural appetite suppressants that can help you lose weight. With proper diet and exercise, small changes can lead you to a healthier lifestyle.
Unlike weight loss pill, these products do not have harmful side effects and will help control your appetite.
Green Tea Extract
The health benefits of green tea have been touted for many years. It is considered as one of the safest appetite suppressant tea available.  It contains caffeine which is also known to curb cravings, improve mood and cognitive function. It also has catechins which are a powerful antioxidant that counters free radicals and promotes a stronger immune system. It helps the body fight heart diseases, cancers and diabetes.  
If you prefer to have appetite suppressant tea to help you on your weight loss journey, take 250 to 500 milligrams of green tea extract daily or drink one to five cups of unsweetened green tea every day. Ideally, it should be consumed early in the day to help control and reduce hunger. 
High Fiber Foods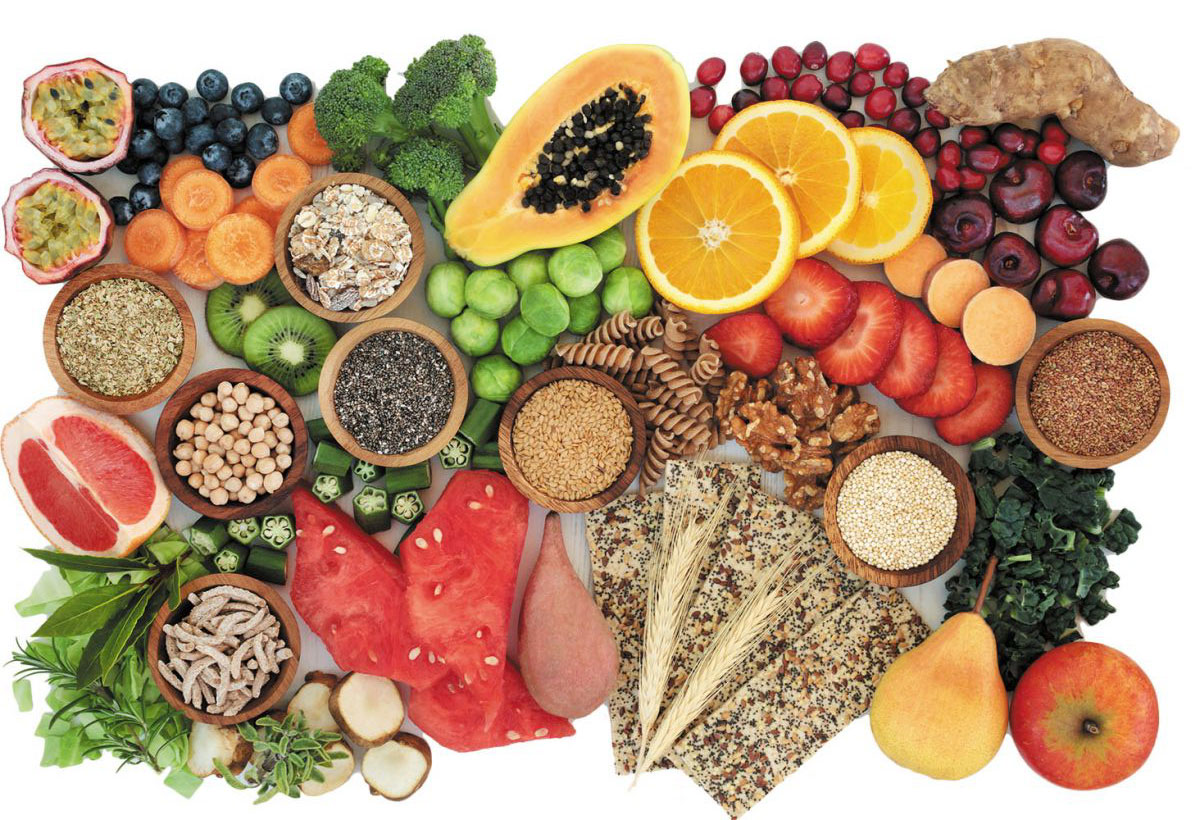 Another natural way to curb hunger and suppress appetite is to choose food with natural dietary fiber. Fiber-rich diet correlates to lower obesity rates and better appetite control. Fiber slows down digestion, thus, the feeling of fullness is prolonged and you don't get hungry soon. 
By increasing fiber in your diet, you lessen calorie intake during meals. And when you have more fiber, you also reduce the risk of some health conditions such as gastrointestinal illnesses, heart diseases, diabetes 2, obesity, and stroke. 
Some foods that are rich in fiber include apples, whole grains, almonds, avocadoes, beans, fresh leafy vegetables and chia seeds.
High Protein Foods
Another appetite suppressant foods that you can rely on to help you lose weight are foods rich in protein. Like fiber, protein makes you feel fuller longer. When you decrease your protein intake, it can lead to weight gain. But when you have a high protein diet, you burn more fat while you stay fuller longer.   
Food rich in protein helps people lose weight and gain more muscle mass. It is one of the best natural appetite suppressants by promoting that feeling of fullness. Some foods that are rich in protein include beans, lean meats, oats, milk, eggs, peas, and Greek yogurt. 
Ginger
Ginger is a common culinary herb that you use to add flavor to your meals and drinks. But apart from giving your flavorful dishes, ginger also has a lot of health benefits for weight loss. One of the most notable are – appetite suppression, anti-inflammatory abilities, and increasing energy levels. 
Studies revealed that ginger helps alleviate oxidative stress and fight free radicals because it is rich in antioxidant properties. It also helps in regulating the movement of food in your gut, so you feel fuller longer. 
Other known benefits of ginger include easing of nausea and arthritis symptoms. The scent of this herb is also enough to relieve stomach discomfort. To help you lose weight, you should take one gram of ginger or ginger extract every day.  
Coffee
This beverage has been enjoyed by people for more than five hundred years. It is a delicious drink with many health benefits. Coffee contains caffeine that is a natural stimulant and appetite suppressant.
Drinking coffee may help reduce muscle pain after exercise, prevent diabetes, and even help fight free radicals with its antioxidant properties. Likewise, coffee helps suppress appetite and aids digestion. There are also clinical studies suggesting that coffee helps in weight loss and as an energy booster.   
Ideally, you should take about two cups of coffee every day. However, it is not advised for pregnant women and breastfeeding mothers. Too much coffee may also lead to undesirable side effects like insomnia and a rise in blood pressure. 
Grapefruit
This fruit is a delicious fruit that also has a lot of significant health benefits. It is especially helpful for people trying to lose weight. Mixed with other citrus fruits, it can effectively help in weight reduction and prevention of obesity. It may even be better than caffeine in suppressing appetite. 
Grapefruit lowers bad cholesterol and when grapefruit essential oil is diffused in your home, you also absorb its active compounds. It enhances the immune system, reduces depression, and aids in weight loss. 
The suggested intake of grapefruit to help you lose weight is one-half fruit every day. You can also take two drops of grapefruit essential oil by mouth daily. Also, avoid exceeding the oral dosage of grapefruit essential oil per week as it can also be toxic to the body. 
Burniva - The Most Effective Fat Burner
Other Tips to Help Control Appetite Without Pills
Apart from choosing natural appetite suppressants, you can also make small changes to help you control cravings naturally.
These steps work well with proper diet and exercise, plus you don't have to worry about side effects. Here are some simple tips and tricks that may help you out.
Drinking more water
Choosing dark chocolate over milk chocolate
Doing more exercises or choosing to be physically active
Doing yoga and meditation to de-stress and relax. Stress can lead to binge eating and weight gain.
Choose healthy fats and protein to curb appetite and make you feel fuller longer
Choose a weight loss product with Garcinia Cambogia, a supplement that comes from fruit. It helps reduce appetite and promote weight loss 
How to use appetite suppressants?
Individuals who are prescribed appetite suppressant should follow the doctor's instructions carefully. It is important for the individual to know how he responds to the medications before driving or operating machinery because the drugs may cause lightheadedness or drowsiness.
They are best taken on an empty stomach an hour before a meal.
Sustained-release or long-acting appetite suppressant must be swallowed whole. Chewing or crushing them will destroy the long action and increase the side effects.
They may cause sleeplessness so it is recommended to not take them late in the day.
They are usually taken for not more than 8 or 12 weeks.
Taking appetite suppressant too often or in too large a quantity, or for longer than what the doctor prescribed, may lead to addiction, or in a worst-case scenario, an overdose.
The symptoms of appetite suppressant overdose include confusion, hallucinations, convulsions, and even come. Individuals who experience any of the following symptoms must call their doctor immediately:
Chest pain
A decrease in the ability to exercise
Difficulty breathing
Swelling in the feet or lower leg
Burniva - The Most Effective Fat Burner
Who may use appetite suppressants?
Appetite suppressants are not for everybody. The studies on the effects of the drugs on older adults are very limited. Also, no studies on the drugs' effect on children have not been done yet.
A doctor should consider the following before prescribing appetite control suppressants to patients: any existing allergies; if the patient is pregnant or is breastfeeding; and the types of medications the patient is currently taking. Existing medical conditions may affect a person's use of appetite suppressants.
A patient should inform his doctor if he has any of the following conditions:
High blood pressure
Heart disease
Kidney disease
Epilepsy Overactive thyroid
Glaucoma
Drug or alcohol abuse or history thereof
All Types
The US FDA has given approval to the following medications that you can buy only with a doctor's prescription:
 Liraglutide – This drug is taken as an injection. The drug was originally sold as a diabetes treatment using the brand name Victoza. It reduces hunger by acting on a hormone in the gut.
Lorcaserin – This drug acts on the receptors in the brain for mood chemical serotonin. This drug can help you feel full even if you eat less than you normally would.
Naltrexone – This drug is a combination of two medications. It affects the reward system in your brain, resulting in eating foods that normally make you feel good suddenly becomes not good anymore. The drug works on your hypothalamus, which regulates your appetite, temperature, and other functions.
Phentermine – Phentermine is another two-drug combo. Phentermine is a stimulant, which makes you feel less hungry. The other ingredient is Topiramate, a medicine used to treat seizures and headaches, but as part of the combo can make you feel less hungry and full.
Benzphetamine, phendimetrazine, and diethylpropion – These are drugs for short-term use, which along with a reduced-calorie diet and a doctor-approved exercise, as well as behavior change program can help you lose weight
Conjugated linoleic acid (CLA) – It is a polyunsaturated fatty acid that is common in foods such as beef and dairy. It is also available in concentrated form; which people use as a weight loss supplement. CLA reduces appetite and intake in animal studies but has not yet been proven to reduce appetite in humans. While CLA may promote fat loss, it has a very small impact on weight loss.
Bitter orange – Bitter orange is a variety of orange that contains the compound synephrine, which may be effective in reducing appetite. Synephrine has a similar structure with the currently banned drug ephedrine. Bitter orange supplements are sold on the market to promote weight loss by reducing your appetite. It is available over-the-counter.
Garcinia cambogia – It is one of the most popular weight loss supplements on the market today. It is made with an extract from the Garcinia gummi-gutta fruit. The pills are used to suppress appetite and promote weight loss. Garcinia cambogia contains hydroxycitric acid which reduces appetite by increasing the levels of serotonin in your brain and reducing the metabolism of carbohydrates.
Hoodia Gordonii – It is a succulent plant that is commonly used by the indigenous people in southern Africa to suppress their appetite. Extracts from the plant are used as dietary supplements that are promoted to reduce appetite and boost weight loss. The mechanism of how Hoodia Gordonii works is still unknown but many scientists believe that it has a link to the P57 compound, which impacts the central nervous system and decreases appetite.
Glucomannan – It is a soluble fiber derived from the roots of the konjac plant. It is able to absorb up to 50 times its weight in water, making it as a weight loss supplement that increases the fullness and reduces appetite. Glucomannan helps reduce appetite by increasing your feelings of fullness, blocking the absorption of fat and protein, and slowing digestion.
Conclusion
Appetite suppressants help you lose weight by reducing your hunger and increasing your satiety. They also increase thermogenesis while offsetting a drop in metabolic rate while you are eating, producing a direct effect on your weight loss. Once taking of the supplement is stopped, you are likely to regain the weight that you lost. Research has shown that prescription appetite suppressants can help with weight loss. However, you should consider the possible benefits against the possible side effects of taking the drugs. It is for your best interest if you discuss first with your doctor the benefits and side effects of the supplement before you request for a prescription.
Burniva - The Most Effective Fat Burner
Burniva contains Green Tea Extract, Citrus Aurantium (Synephrine) and Caffeine Anhydrous, formulated in the right dosage and ratio to provide a powerful and effective synergistic effect. This formula is backed by scientific research and has been proven to enhance fat burning, reduce appetite and boost mental and physical energy. When taken before workouts Burniva will help you perform more intense and longer workouts. Burniva proven formula, combined with an adequate meal plan, can help you reach your weight loss goals faster.
Recommended Intake
As a dietary supplement, take 1 tablet in the morning and 1 tablet in mid-afternoon with 250ml of water.
Burniva is not a medical product and should not replace a well-balanced diet and healthy lifestyle. Not for use by individuals under 18 years of age. Do not use if pregnant or nursing. Consult a physician or licensed qualified health care professional before using this product if you have a family history of heart disease, thyroid disease, diabetes, high blood pressure, depression or other psychiatric conditions, glaucoma, difficulty in urinating, prostate enlargement and seizure disorder. Discontinue use or consult a doctor if adverse reactions occur.
Caution This product contains caffeine and should not be used by those willing to eliminate caffeine from their diet. Keep out of reach of children. Store in a cool, dry place away from moisture and direct sunlight.